Films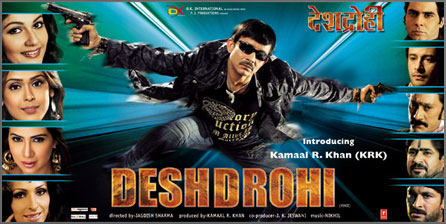 Just like how media plays a major role in our day-to-day life, in the same way it plays an important role in our film. The hero of our film named 'Raja' out of frustration leaves his family and comes to Mumbai in search of a job as well as Shekhar his friend. In his village, his father is a farmer by profession, who loves him a lot. A girl named 'Neha' is also madly in love with him. Raja finds his friend in Mumbai Shekhar doing the job of a Watchman. Shekhar offers the same job to Raja but Raja refuses this offer because he has big dreams and wants to fulfill them. He meets a girl in Mumbai named 'Sonia', who is the heroine of our film. Sonia is working for a man named 'Baba Bahadur' who deals in drugs. Sonia has a brother who is dumb.
When Raja and Sonia meet for first time, Raja repeatedly at various times and places. Their relationship grows gradually. Raja soon realises that North Indians are not liked by the Mumbaikars, where as Raja has the feeling of equality and believes that all should live with love. On the other hand, there is a North Indian leader named 'Shrivastav'. Shrivastav is a role model for all the North-Indians. But in reality he is like any other politician. He uses people for his own selfish needs. There are other politicians as well like chief-minister, vice chief minister, home minister etc. The use of common man for their selfish motives. A city based Mafia and drug dealer named Rajan Patil is also working under these great politicians. Media wants to reveal all this corruption to public through television and news papers. As Sonia is working for Bahadur she has an enemity of Rajan Patil.
A mysterious man in a hood breaks into a young woman's house, murders her with a screwdriver and throws her out of the window. The young woman is confirmed to be Aisha Verma (Shraddha Kapoor). At her funeral, a CBI officer, Aditya Rathore (Shaad Randhawa), points out to the police, that it is vital to track down the murderer or else Guru (Sidharth Malhotra), Aisha's husband, would go on a killing spree. He misguides Guru by blaming Guru's former boss, a gangster Caeser (Remo Fernandes), for killing Aisha. In a flashback, he reveals that Guru used to work as a hitman for Caeser. Two years back, Guru had mercilessly killed a young man in a fit of anger, in front of his mother and younger brother.
Guru meets Aisha, a free spirited girl in love with life, who requests him to help her with reuniting two aged lovers. They soon become friends and Aisha reveals to him that she is suffering from a terminal illness, and tells him about her bucket list. Guru helps her fulfill most of those wishes but her health deteriorates. Falling in love with her, Guru marries Aisha. He tries every means to save her, she receives treatment in Mumbai and miraculously recovers. Few days later she discovers she is pregnant but conceals the fact from Guru. In a parallel story, Rakesh Mahadkar (Riteish Deshmukh) is an unsuccessful and henpecked man who is constantly nagged and ridiculed by his wife Sulochana (Aamna Sharif) for being useless and poor. He vents out his frustration by murdering women who speak rudely to him, and Aisha turns out to be one of them.
In present day, Guru aims to track down Aisha's killer. After finding out that it was not Caeser behind the murder, he finally tracks down Rakesh, while he is assaulting another victim. Guru beats him brutally but later admits him to a hospital and pays for the expenses, intending to return. While at the hospital, Guru finds out that Aisha was pregnant which makes him even more angry. While assaulting a nurse who had earlier spoken rudely to him, Rakesh is again intercepted by Guru who almost kills him, but revives him again after delivering an adrenaline shot and sets him free. Meanwhile, the police find the truth about Rakesh and take his wife for questioning. Rakesh goes to his friend Brijesh Yadav (Kamaal R Khan), who suggests that Guru must be the husband of one of his victims and is thus taking revenge. He realizes that Guru is Aisha's husband as Aisha had begged him not to kill her by saying that she is pregnant.
Rakesh, who now knows Guru's identity, taunts him over the phone before killing Aisha's father, and then surrenders himself to Guru. Rakesh expected Guru to kill him so that he would become a "hero" in the eyes of his wife and everyone else, while Guru would become a "villain". However, Caesar calls Guru at that moment and says that he has killed Rakesh's wife and asks Guru to finish off his son. Enraged, Rakesh injures Guru and is about to kill him when he is run over by a car and dies on the spot. Guru later adopts Rakesh's son instead of killing him, and completes the remaining wishes on Aisha's bucket list.